We are Bert and Lisette. We are together since 1986 and have been living in Zeeland since 2016. We enjoy it every day! Lisette is a doctor and Bert works in the management team of a car repair chain. We consider it an honor that people like to come to us and enjoy a nice holiday.
We love our beautiful surroundings and are happy to share tips with you. We have a guest information document and travel guides in the house with all the information about the area and tips for (culinary) enjoyment.
We contact you mostly by e-mail to enquire whether we can do something for you without violating your privacy too much. We are always happy to help.
We look forward to welcoming you to our beautiful holiday home Liberte.
Kind regards,
Bert and Lisette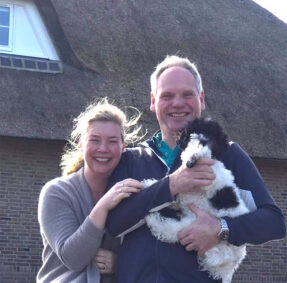 Holiday home Liberte is located on the Meeldijk near Burghsluis.
Meeldijk 26a
4328 NG Burgh-Haamstede
The Netherlands